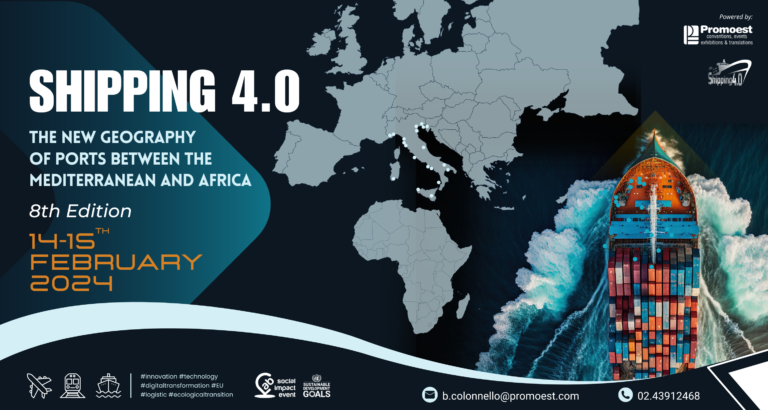 Shipping 4.0, organised by Promoest, is back with its 8th edition and this time aims to explore the untapped potential of the shipping industry straddling Italy, the Mediterranean Sea and sub-Saharan Africa.
The seventh edition, held at the European Parliament in Brussels, was a great success, with in-depth discussions, solutions and innovative ideas shared by participants.
As the world faces the evolving challenges of climate change, economic uncertainty and geopolitical tensions, the shipping industry has a key role to play in shaping a sustainable and prosperous future.
The geographical area that the new edition will cover presents a combination of challenges and opportunities, with transport, geopolitics and finance at the frontline, and will highlight the importance of ecological and energy transition as strengths that can drive innovation, collaboration and growth in the shipping industry.
The conference will offer participants a unique platform to engage in discussions, network with industry leaders and gain insight into the latest trends and technologies.
We invite you to attend this transformative event and join us to explore the untapped potential of the shipping industry.
The full video of the 7th Edition:
The shipping industry has come a long way since the days of sailboats and clipper ships.
One of the most significant trends in the shipping industry's future is the move towards sustainability and eco-friendliness. 
This shift towards sustainability is likely to continue, with shipping companies investing heavily in renewable energy sources, such as wind and solar power, and exploring new fuel alternatives, such as hydrogen and biofuels.
Another trend that is likely to shape the future of the shipping industry is the use of digital technologies. 
From autonomous vessels and drones to blockchain-based supply chain management systems, digital technologies are set to transform the way goods are transported and tracked. 
This is expected to improve efficiency, reduce costs, and enhance safety in the industry.
The impact of the "third pass" and the major new dam in Genoa on the development of traffic from Europe to the Far East and back.
#innovation #technology #digitaltransformation #EU #logistic #ecologicaltransition